Homework
At Hadleigh High School we believe homework is a key part of school life. It allows students to develop their knowledge independently and makes the difference between good and great progress. Homework alone is not enough - it must be of a high quality. We strive for all of the homework we set to be engaging and challenging, but above all, worthwhile. In order to achieve this, we have introduced our 'Work Hard Strategies'.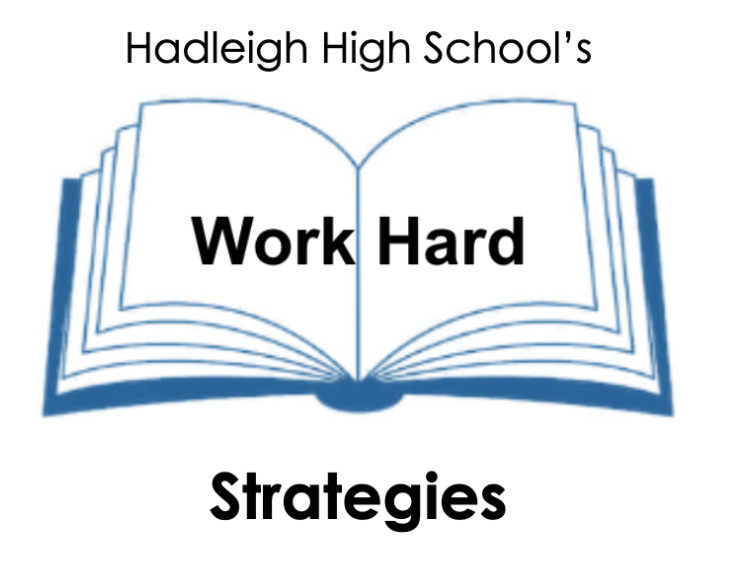 When students join us in year 7, we introduce them to these eight strategies throughout the first term. Form tutors teach a strategy in their Monday tutor session, then students use this strategy for all of their homework that week. As they progress through the term, students are guided to reflect on the strategies they have developed so far, and to start to develop an understanding of how they learn. By the end of the term, students have a toolkit of strategies for independent study.
Our Work Hard Strategies are also used in lessons for retrieval practice, which is an integral part of our knowledge-led curriculum. All eight of the strategies are founded in research, applicable to lots of different types of information and require nothing more than something to write with and something to write on.
Knowledge Organisers
At the start of each term, all students will be issued with a Knowledge Organiser containing the key terms and definitions for every subject.
These documents are also available to download from the links below. Homework will be set by teachers directly from these at KS3 and will focus on the learning and retrieval of key facts and vocabulary. At KS4, homework will be a combination of the retrieval of key facts and examination skills practice.
Year 7
Year 8
Year 9