Welcome to Hadleigh High School
Headteacher's Welcome
Mrs Shingleton

Choosing the best school for your child is an extremely important decision. You need to be sure that, in addition to a great education, your child will be cared for in a happy and safe environment. With this in mind, it is with immense pride that I welcome you to Hadleigh High School.



Hadleigh High School offers a caring, nurturing and secure setting that enables every member of our school community to be the best they can be in all that they do. Moreover, our relatively small size is an asset in ensuring that all of our students are known as individuals.


As Headteacher, I am passionately committed to excellence for all. We have high aspirations for ourselves, our students and the community we serve and our intention is for our students to gain access to the best apprenticeships and universities in the country.

Nicola Shingleton

Headteacher
Headteacher's Welcome Address
About Hadleigh High School
We want to provide you with as much information as possible so that you understand all that the school has to offer. Please work your way through the information below or go straight to a particular section by clicking the relevant topic.
Further information about our school values and daily routines and can be found on our All About Hadleigh High School year 6 transition page.
Pastoral, Curriculum, Assessment and SEN
To meet the school's leadership team and to discover more information on our curriculum, pastoral care, assessments and SEND, please click on the videos below.
Mr Brigden
Pastoral

Mr Etchingham
Curriculum

Mr Green
Assessment

Mr Miller
Learning Support
Subject Information
This section is intended to give you an overview of what Hadleigh High School looks like and what it means to be part of our community. Using the links below you will hear from a range of our staff talking about what life is like at our school and what happens in each subject.
| | |
| --- | --- |
| Creative Arts | |
| English | |
| Humanities | |
| Maths | |
| MFL | |
| PE | |
| Science | |
| Technology | |
Virtual Tour of our buildings and classrooms
This page is intended to give you an overview of what Hadleigh High School looks like. Click on the map below to see what different parts of the school look like.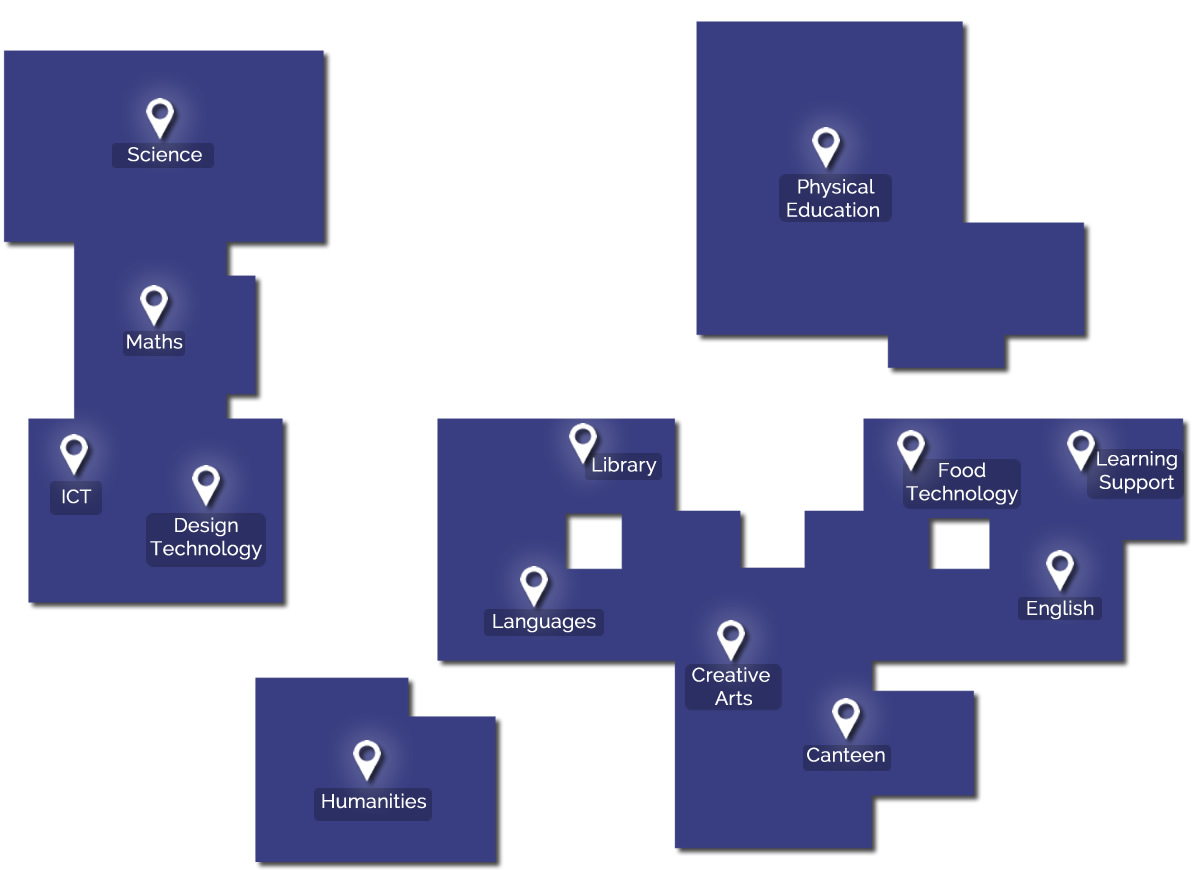 Virtual Tour of our school site
Meet the Head Students
Rowan Abbott

Hi everyone, my name is Rowan and I'm one of four Head Students at Hadleigh High School. Year 7 was very weird for me, coming into a new school where previously you were the oldest and now you are one of the youngest. I'll be honest, it was a bit of a shock to the system. One good thing is that our teachers are so supportive and kind. On the first day of Year 7, I walked into the playground and felt quite overwhelmed by everyone and everything! I had no idea what to do, that is until the Transition Coaches came out to greet us. They helped us to find our way around the school and showed us to our classrooms, but even then, I wasn't completely happy with where I was. I was very anxious and worried and didn't want to go to school or do any of my school work. I became less motivated in lessons and I wasn't working to my best ability. My parents noticed that I wasn't the happy girl that loved to learn like before and they encouraged me to talk to my Head of Year; it was the best thing I could have done. She helped me regain my confidence and happiness in school and look where I am now, a Head Student of Hadleigh High school! So, if you have any doubts about coming here, our teachers and student leaders will always be there to care for you and support you.

Natalie Condon

Hi, my name is Natalie and I am one of the Head Students at Hadleigh High this year. I remember Year 7; I didn't know my way around and there were lots of new people to meet! Understandably, I was a little anxious and worried, but I need not have been as there were so many helpful staff and students ready to support me. The teachers and Transition Coaches met us on the front playground on our first day and told us everything we needed to know. There might be times ahead when you feel nervous, but remember there are also so many positive and exciting opportunities. It's a big jump from primary school to high school, so do not expect to know everything immediately. Finding someone to ask or talk to, such as your form tutor, head of year, or one of the student leadership team is so easy. We look forward to seeing you at Hadleigh High School soon.

Deacon Cutt

Hello, my name is Deacon. When I started in Year 7 at Hadleigh High I didn't know what to expect. I was nervous about the size of the school and the number of students there were, compared with my primary school. When I began my first week in Year 7, I soon realised I had no reason to be nervous about anything. The teachers and students were all really welcoming. My form tutor helped my form group settle in and helped us get to know each other. We were also given student guides; these were full of really helpful information about the school. Everyone helped us in finding our way around the school and Student Transition Coaches were also there to help guide us around. I quickly settled in, gained confidence and made lots of new friends. I also joined lots of the clubs that were available, some were held at lunch time and others were held after school. These clubs gave me the opportunity to have fun and learn new skills and to get to know students from other year groups. For me, Year 7 at Hadleigh High was full of excitement and new experiences, and with the help of staff and students I felt safe and confident.

Bethany Goredema

Hello, my name is Bethany and I'm a Head Student here at Hadleigh High School. You may be worried or anxious about coming up to high school, but trust me, you will soon settle in. I remember being nervous and curious for the first day in Year 7. As expected, the majority of us got lost while trying to find our classes, but in a short space of time, we were all familiar with the school. You are bound to make new friends, learn a variety of new skills with all the new subjects you will study, such as Design Technology and have the opportunity to apply for your first leadership role by the end of Year 7. The first leadership role you will be able to apply for is as a Transition Coach. From being a Transition Coach myself, it was a really good way to gain confidence and help people who are in the same position as you were. The role is all about making sure Year 7s feel welcome, while testing your leadership and presentation skills. When you come up to Hadleigh High School, not only will the Transition Coaches be there for you but the whole student leadership team will be, as well as the teachers. As a school, our motto is: Aim High, Work Hard, Be Kind. If you do all these things, you will be just fine.
Parent Carer Handbook and School Prospectus
To download a copy of our Parent / Carer handbook, click here
To download a copy of our School Prospectus, click here
Frequently Asked Questions
How will I know where to go on my first day?
Staff will be out on the front playground to meet you as you arrive.
Will I be in the same classes as my friends from primary school?
We will try to ensure you are in the same tutor group with a friend you work well with but cannot guarantee this. Before the summer holidays your parents/carers will be sent a letter informing them who your Form Tutor will be.
What will happen if I cannot find a classroom or I am late to a lesson?
We will expect it to take a little while for you to get used to the new buildings and timetable. Staff and other students will be available to help you find your way round. Most students manage to find their own way round really well after just a few days.
Will we be allowed to use the toilet during lessons?
You are expected to be organised and go to the toilet before school, at break times and at lunchtimes. However, on rare occasions we understand there might be exceptional circumstances.
Will we be allowed to use our phones during the school day?
No, you can only use them after or before you arrive at school. They must be switched off or on silent and in your bag. If you have your phone out of your bag at school, it will get confiscated. If you ever need to contact your parents/carers you must come to the student reception in the dining hall.
Will I get a detention for bad behaviour?
You will only get a detention if you make poor behaviour choices. The first time a student behaves badly they will be given a C1 warning. If it happens again with that same student, they then get what's called a C2. If it happens for a third time, that student will receive a C3, which is a detention.
Will I get rewards for good behaviour?
The simple answer is yes! In lessons, you can receive verbal and written praise using our P system, being awarded positive events on Go4Schools and house points.
You can also be awarded positive events and house points when you demonstrate high standards in our three core values. During Celebration Assemblies, you can expect to receive certificates and prizes. At other times students may receive praise postcards, phone calls and end of term/year rewards trips and activities.
Is there a homework club?
Yes there is - after school in the Learning Support room - staff will be in there to support you if you need help.
When is the library open?
It is open every day before school, at break time and lunch time.
Will I get a Hadleigh High School email address?
Yes, this will be shared with you during your first few days with us. You will be shown how to use our IT systems but this information will also be in the Student Guide you are given when you join us.
How much homework will I get?
You will need to get used to organising your time. You will get two pieces of homework each day. It will be based on your Knowledge Organiser booklet and set by your teachers using Go4Schools.
How to apply for a place at the school
Further information on how to apply for both September and mid-year admissions can be found on our Admissions pages